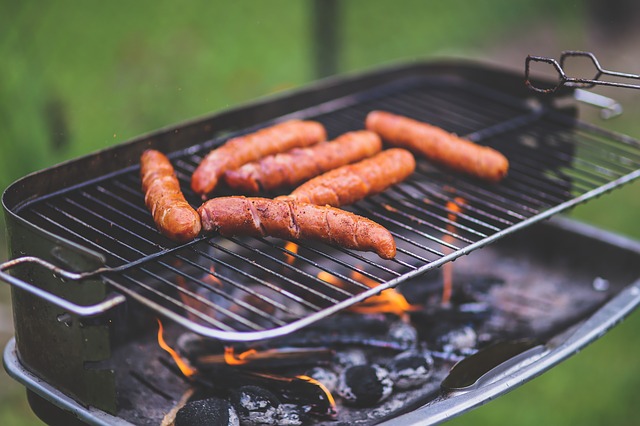 Grilling does not have to be reserved for dinner only. If you are adventurous and like to try out different things in the kitchen, the idea of grilling breakfast and lunch may have crossed your mind. There are many fun grilling recipes for grilling non-traditional recipes for breakfast, lunch, and brunch. You can spend your whole weekend grilling and trying out the different meals. Prepare your backyard for entertainment and enjoy these grilling recipes.
Grilled French Toast Kebabs
This is a great meal for camping and backyard parties. Line the grill with foil to let the French toast cook without burning. You should also cover the grill to give the French toast a smoky flavor.
Yield: Serves 4
Ingredients:
1 loaf (1 lb)
¾ cup milk
4 eggs
Vanilla extract – 1 teaspoon
Melted butter
Berry or maple syrup
Powdered sugar
Preparation:
Heat a grill to 350°. Soak wooden skewers in water for 20 minutes then drain.
Cut the bread into chunks of 1 inch. Include crust on each chunk to make 2 qts
Place eggs, milk and vanilla in a bowl to blend. Add the bread to coat then thread onto skewers.
Use tongs and oiled paper towels to oil the cooking grate. Grill the skewers until they brown, turning them every 4 minutes.
Serve with syrup and butter. You can dust using powdered sugar.
http://www.myrecipes.com/recipe/grilled-french-toast-kebabs
Grilled Plum-Glazed Sausages
There are numerous possibilities when you choose grilled sausage. You will be able to explore the options presented through grilled breakfast. The sausages will turn to a delicious brown with the fruity plum glaze adding to the taste.
Yield: 8 – 10 servings
Ingredients:
¾ cup of plum preserves
Balsamic vinegar – 2 tablespoons
Fresh thyme – chopped, 2 tablespoons
Freshly ground pepper – ¼ teaspoon
Fresh sausages – 2 pounds
Preparation:
Preheat grill to medium heat (300° to 350°).
Cook the first 4 ingredients over low heat for 5 minutes, stir often. Reserve half of the plum mixture.
Grill sausages for about 12 minutes. Cover the grill with grill lid and turn sausages during the last 5 minutes of grilling.
Remove sausages from heat and allow to stand for 5 minutes
Serve with plum mixture
http://www.myrecipes.com/recipe/plum-glazed-sausage
Grilled Breakfast Tacos
Grilled salsa brings out the best of the tomatoes and sweet corn. This tastes delicious with the scrambled eggs, Spanish chorizo sausage and corn tortillas. Add some cheese while the eggs are still hot so that the cheese can melt from the heat.
Yield: 4 servings
Ingredients:
Fresh chorizo – 8 ounces
Extra virgin olive oil – 1/3 cup
Cherry tomatoes – 1 cup
2 ears yellow corn with the husks removed
Scallions – 1 bunch
1 jalapeno –halved
Freshly ground pepper and kosher salt
¼ cup of roughly chopped cilantro leaves and stems
8 eggs
Heavy cream – 2 tablespoons
8 6-inch corn tortillas
Finely grated Monterey Jack cheese – 4 ounces
Preparation:
Prepare grill to medium heat. Prick chorizo with fork and brush them with oil.
Grill them, turning them frequently for 15 minutes. Cool them and slice into rounds of ¼-inch thickness.
Thread tomatoes onto a 10-inch skewer. Put the skewered tomatoes, scallions, corn, jalapeno and limes on baking sheet. Brush limes and vegetables with 2 tablespoons of oil. Then sprinkle salt and pepper.
Place the limes and vegetables on grill with flesh side down. Grill the corn until lightly charred. Grill tomatoes, jalapenos, scallions and limes until deeply charred. Return the limes and vegetables to the baking sheet.
Transfer the already cooked chorizo to a cutting board. When they are cool, halve the tomatoes, cut the corns off their cobs, and slice the scallions and jalapenos. Place the cut vegetables, the juice of 2 of the half limes and cilantro in a bowl and stir to mix. Add salt and pepper to season. Cut the other 2 grilled lime halves into wedges and set aside.
Whisk the eggs, cream and ½ teaspoon each of pepper and salt in a bowl. Place a cast-iron pan on one side of grill and pour some oil. Allow the oil to heat and add the egg mixture. Stir the eggs with a spatula for 6 to 8 minutes and then stir in the chorizo.
As the eggs cook, grill the tortillas on the other side of the grill. Wait until they are charred on both sides.
Divide the egg mixture among the tortillas. Sprinkle 2 tablespoons of Monterey Jack cheese then top with one spoon of grilled salsa.
Serve immediately with lime wedges and the remaining grilled salsa.
http://www.foodnetwork.com/recipes/food-network-kitchen/grilled-breakfast-tacos
Grilled Bacon and Herb Grit Cakes
When you chill the grits, it will help them to keep their shape and to remain firm enough to cut after they are grilled. Have a great appetite as you enjoy the healthy and delicious treat with friends and family.
Yields: 4 servings
Ingredients:
4 cups of cooked instant

frits

Shredded white cheddar cheese – ½ cup
Minced fresh thyme – 1 tablespoon or dried thyme – 1 teaspoon
Chopped fresh parsley – 2 teaspoons
Garlic powder – ½ teaspoon
Black pepper – ½ teaspoon
3 slices of cooked and crumbled bacon slices
Cooking spray
Preparation:
Put the first 7 ingredients in a bowl and stir.
Coat a 10-inch square baking dish with cooking spray and spread the grits evenly over it
Cover and wait until completely cool
Prepare the grill
Invert grits on a cutting board. Cut them into 4 squares and then into 8 triangles
Coat grill with cooking spray. Place the triangles on grill and grill each side until it turns light brown
http://www.myrecipes.com/recipe/grilled-bacon-and-herb-grit-cakes