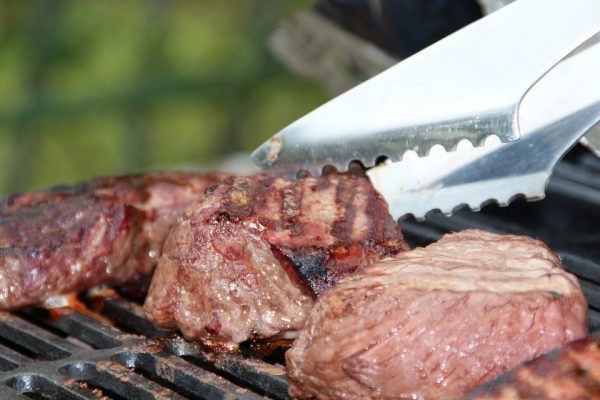 Bison meat, or Buffalo meat, is becoming more and more popular among Americans as a red meat alternative, as Bison meat is deemed more healthful and also incredibly flavorful. The best bison is completely grass-fed through its entire life and the best bison meat has been aged for 10 – 14 days before being cut down to the various cuts available at your local butcher's.  Grillers in the know trust their grill surface thermometers, since a large part of good grilling comes down to the amount of time the meat is at the right temperature, and monitoring these elements will put you ahead of the pack, and help your bison meat be even better.
How to Select Bison Meat
Like most other popular foods for the grill, the quality of the beginning cut of bison meat will make the most difference in the finished product. Bison is farmed at exceptionally high standards, and there is less variation in price and quality in bison meat than there is beef. Most bison is 100% grass-fed and raised to the optimum age without too much variation. As with any other grilling project, always choose the best quality available for your budget, and utilize the best fire elements for the taste that you desire. Wood pellets, natural gas vs. propane and self-made dry rubs, along with many other variables, can greatly help you to create the signature taste that every griller works toward.
How to Grill Bison Meat
When grilling your bison meat, it is very important to remember that this animal possesses an astounding 76% less fat than beef, which, as most seasoned grillers know, decreases cook time by a very significant margin! Due to the clean and straightforward taste of grass-fed bison meat, we recommend a very simple prep for your cuts. We find a quick rub of a mixture of olive oil and coarse sea salt, or Himalayan pink salt if you are feeling extra fancy, to be the best way to bring out the great flavors of bison meat, including both bison steaks and bison burgers.
Orange Molasses Glaze Recipe
For those looking for a bit more zing in their bison meat, we highly recommend the Orange Molasses Glaze Rib Roast presented by the fine folks at Exotic Meat Recipes and quoted from the highly recommended "American Game Cooking" cookbook.
The Orange Molasses Glaze is a perfect treatment for bison meat rib roast.  The glaze is spiced up with flecks of mustard seeds which give it a strong flavor along with a great and zesty flavor. This glaze treatment will give you a crust that is spicy and sweet and imparts a truly captivating taste to your grilled roast.
Ingredients
1 Buffalo / Bison Rib or Top Sirloin Roast (7 to 9 pounds)
1 Tablespoon Olive Oil
1 1/4 Cups (1 medium) Finely Minced Red Onions
3 Tablespoons Finely Minced Garlic
1 Tablespoon Cracked Black Pepper
1/2 Cup Balsamic Vinegar
1 1/4 Cups of Fresh Orange Juice
1 Tablespoon Grated Orange Zest
1/3 Cup Molasses
1 Tablespoon Coriander Seeds, Toasted and Crushed
1/4 Cup Yellow Mustard Seeds
1 Cup Dry Red Wine
2 Cups Beef, Veal or Basic Game Meat Stock
Salt and Freshly Ground Pepper to Taste
Carrot / Sweet Potato Puree
Recipe instructions
Trim roast to remove all but a thin layer of fat.  Tie securely if desired and set aside in a roasting pan or a rack. Heat oil in a separate saucepan and saute onions and garlic until they start to color.  Add pepper, vinegar, orange juice, zest, molasses, coriander and mustard seeds and bring to a boil.  Reduce heat and simmer for 8 to 10 minutes or until glaze is lightly thickened.   Cool.
Generously paint roast with glaze and allow to sit at least 2 hours at room temperature, or overnight refrigerated, before roasting (bring back to room temperature before roasting).  Reserve any remaining glaze to baste roast during cooking. Preheat your grill to 450F and roast for 15 minutes.  Lower the flame and continue to cook until a meat thermometer registers 130F.  Be careful not to overcook or meat will be dry and chewy.  Baste roast occasionally with any remaining glaze.
Remove roast from grill and keep warm.  Add wine and stock to roasting pan and bring to a boil, scraping up any brown bits.  Reduce slightly and then strain juices. Correct seasoning with salt and pepper.  Slice roast and serve with warm pan juices and a dollop of carrot-sweet potato puree.  Leftover roast can be used to make Buffalo Chili.