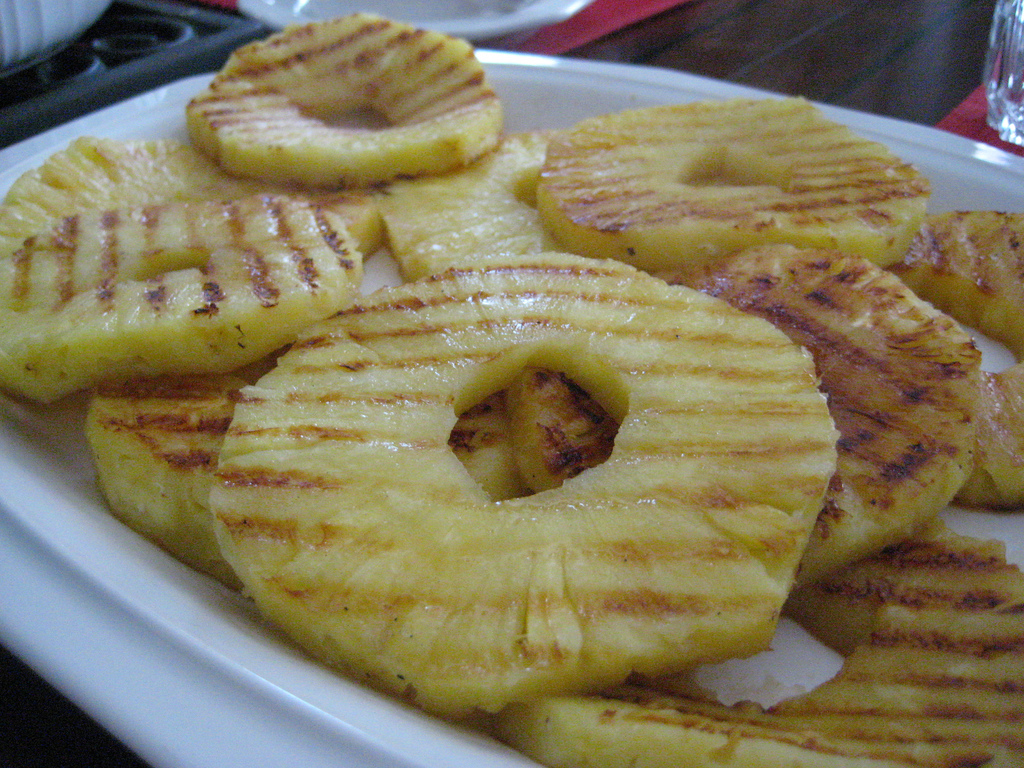 The holidays are a time for celebrating a special occasion with family and friends. Because almost everyone has time off during the holidays, this is a great opportunity to catch up with loved ones who haven't been seen recently. Unfortunately, there are often dozens of people crammed into a small space, making cooking a challenge. To address this issue, many people turn to the grill. Grills are usually outside either in the yard or on the deck, meaning they are away from the crowd and easier to use. While many people don't think about using the grill for desserts, there are actually some fantastic grill recipes for desserts that people can make during the holidays!
Grilled Holiday Dessert Recipes
Chocolate Cherry Ricotta Grilled Pizzas
First up is a twist on a classic entree. This ricotta cheese pizza comes with chocolate cherries because chocolate and cherries pair together beautifully. Chocolate cherries go together even better around the holiday season Many people have tried dessert pizza and been amazed. Best of all, this grill recipe even goes well with classic dessert condiments. If someone wants to add ice cream and whipped cream to the recipe, have at it! This is a quick dessert that requires only minutes on the grill. Everyone will be amazed at this twist on dessert pizza.
Ingredients
1 pound Whole Wheat or Gluten Free Pizza Dough, divided into 8 portions
Sunflower Oil or Cooking Spray
10 ounces fat free Ricotta Cheese
Vanilla, Plain or English Toffee Stevia Drops to taste
optional: a few drops of pure Vanilla or Almond extract
2 ounces chopped Chocolate
1 cup Cherries, pitted
a few ounces chopped Nuts, Almonds, Pistachios, Walnuts, Pecans, etc.
Optional Toppings
Melted Chocolate for extra sauce
fresh Mint
more chopped Nuts
powdered Sugar or Stevia, granulated Truvia is really good on these
fresh Homemade Whipped Cream
a pinch of Cinnamon
Directions
Before heating the grill brush the grates with some oil or cooking spray. Pre heat to medium high heat. Mix ricotta cheese with your sweetener of choice and any flavored extract to taste. Have cherries, chocolate, and nuts in separate bowls. Flatten pizza dough into 1/4 inch disks. Lightly oil each side of the dough with a brush or your hands. Have all ingredients in easy reach of your grill.
Grill pizza dough for about 2 minutes on each side with the grill top open. It will puff up and you will get grill marks. Reduce heat to medium and flip pizzas with tongs, grill for one minute and remove from the grill. Top each piece of flattened dough with some ricotta, cherries, chocolate and nuts. Put pizzas back on the grill, close lid and cook for about 2-3 more minutes until the chocolate is melted. Serve warm with any extra toppings, sauces, ice cream etc.
Click here to see the original grill recipe  and fire up the grill!
Grilled Pineapple with Coconut Sorbet
Ingredients
Directions
Heat grill or a grill pan to medium; lightly oil grates or pan. In a bowl, toss pineapple with honey and cayenne. Grill until light-brown grill marks appear, 10 to 15 minutes, turning once. Serve pineapple with sorbet; garnish with mint.
Click here to see the original grill recipe
Grilled Pound Cake
Nothing says that the holidays have arrived more than the numerous varieties of pound cake available at the store. While many people use the pound cake to serve with holiday dessert classics, many people don't realize that grilling a pound cake will make for a delicious dessert! Grilled pound cake leads to a fantastic crust on the outside that leaves soft, succulent cake that pleases the taste buds intact. When this dessert is paired with some delicious melted butter, topped with classic holiday cherries, and finished with whipped cream, the grilled twist on the holiday dessert will be the focus of everyone in the room. For people looking to add their personal touch to a holiday classic, discover what this recipe has to offer.
Ingredients
Whipped Cream (homemade of store bought)
Directions
Preheat grill on medium heat.  Cut pound cake into 6-8 equal servings.  Brush each side with melted butter and set aside.  In a small cup, add cold water and corn starch together.  Stir mixture until corn starch is dissolved.  In a medium sauce pan on med-high heat cook cherries, water/corn starch mixture, and sugar together for 10 minutes.  Stir occasionally.  After the cherries have been cooking, add lemon juice and stir again for 2-3 minutes.  Turn off heat.  Grill each side of pound cake slices for one minute.  Remove from heat and pour a few tablespoons of cherry sauce over the cake and place a dollop of whipped cream off to the side.  Enjoy!
Click here to see the original grill recipe
Fondue on the Grill
When the weather cools off, many people jump towards the warmth of the fondue pot. Most people don't realize that fondue can actually be prepared on the grill! That's right, the fondue pot can actually be set on the grill. As the chocolate and cream melt and rise to a simmer, this adds a unique touch to a favorite. Even better, try grilling the bananas and marshmallows attached to skewers over the grill! Everyone will be impressed with the creative use of the grill. They'll be even happier when they taste the delicious results.
Ingredients for the Chocolate Fondue
8 ounces bittersweet chocolate, chopped (1 1/2 cups)
1 cup heavy cream
3 tablespoons bourbon (optional)
Ingredients for the Skewers
Directions
Make the chocolate fondue: Place chocolate in a heatproof bowl. Bring cream to a simmer in a medium saucepan set over a campfire or on a medium-high grill; pour over chocolate. Let stand for 5 minutes. Whisk until smooth. Whisk in bourbon.

Make the skewers: Thread bread, bananas, and marshmallows onto 8 skewers. Toast over campfire. Serve with chocolate fondue for dipping.
Click here to see the original grill recipe
Grilled Strawberry Shortcake Kabobs
Last up, the cake meets the grill again. Kabobs are always a popular entree, but why not take it to a new level with some shortcake and strawberry skewers? Grilled pound cake was detailed above but the skewers meet the grill again in a creative variation of the classic strawberry shortcake dessert. It doesn't take more than a few minutes for the shortcake and strawberry to reach their optimal finish on the grill and the warmth will keep those guests happy during the holidays. They can still be served using whipped cream!
Ingredients
Strawberries
Pineapple
Coconut Pound Cake (store bought or homemade)
Directions
Cut fruit and pound cake into similarly sized cubes. Thread onto BBQ skewers and grill over a medium high heat, turning occasionally until fruit is soft, and pound cake is toasted, about 6-8 minutes. Serve with whipped cream
Click here to see the original grill recipe
When the house gets crowded during the holidays, it is time to save space by firing up the grill. Don't be afraid to lean on the grill to provide creative dessert options! Visit the grill recipes for some creative dessert ideas that will keep every gathering happy.